D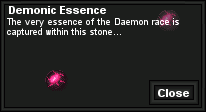 emonic Essence allows a player to play as a
Daemon
. Because of their increased dark affinity
Daemons
are frequently used as
Dark Knights
,
Timeweavers
, and
Necromancers
though they have other uses as well. The following monsters drop demonic essence for the following prices (though demonic essence can also be bought for around 850k-1 mil.)
Champ drops it at 0.7%
Flesh Corpse drops it at 0.01%
Immense Flesh Corpse drops it at 0.09%
Vex the Bellicose drops it at 0.9%
Mystical Being drops it at 0.9%
Calamity Elder drops it at 0.9%
Ad blocker interference detected!
Wikia is a free-to-use site that makes money from advertising. We have a modified experience for viewers using ad blockers

Wikia is not accessible if you've made further modifications. Remove the custom ad blocker rule(s) and the page will load as expected.