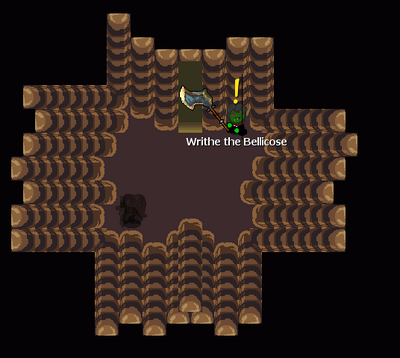 The Bellicose (not to be confused with Krath the Bellicose or Vex the Bellicose) is a hidden quest found on Seryl Island. To complete it a player must be somewhere between level 44 and level 60. They must also be able to kill Krath the Bellicose, or they must be in a party capable of doing that. The reward is a new title and a Follow-me Krath.
Locating the Quest
Edit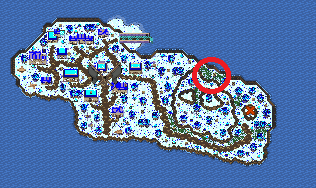 The quest NPC is located in a Puppin Secret level located in the side of a mountain on Seryl. To reach it, players must approach it from the left side as the right side is completely blocked off.
To reach it from the Northern Seryl Center flag, head left and up when you come to a mountain. Keep following the mountain until you come to a dip in the side of it. ( If you look closely you may see the door.) Walk into this dip and you should enter into the correct room. If you reach a dead end blocked by trees and rocks you have gone too far.
How to Complete
Edit
First players will have to talk to Writhe the Bellicose located in the Puppin Secret 3 room. Once they have started the quest they should head to Seryl Dungeon and either kill the Krath the Bellicose, or join a party and watch someone from the party kill it. Once the party or player kills Krath the Bellicose while the player is present, they should return to Writhe the Bellicose to complete the quest.
For completing the quest players will recieve:
A Follow-Me Krath the Bellicose
The Title (also known as Rank) "The Bellicose" will be added to the user's profile.
Ad blocker interference detected!
Wikia is a free-to-use site that makes money from advertising. We have a modified experience for viewers using ad blockers

Wikia is not accessible if you've made further modifications. Remove the custom ad blocker rule(s) and the page will load as expected.